Become a Member
Thank you for your interest in becoming a MariSol member! Read our FAQs to learn more, and start your application online.
Who is eligible to join MariSol Federal Credit Union?
Maricopa Count Employees, Retirees, and Volunteers
Any employee, retiree, or volunteer of Maricopa County and their families are eligible for membership.
Roman and Byzantine Rite Catholics
Any members, staff, faculty, student, and retiree of any Roman and Byzantine Rite Catholics in the Diocese of Phoenix, Tucson, and Van Nuys. In 2003, MariSol merged in Sun Catholic Credit Union.
MesaCAN Employees
Employees and their families of Mesa Community Action Network, Inc. (MesaCAN)
Arizona Odd Fellows and Rebekah Organization
Any members of the Arizona Odd Fellows and Rebekah organization in the State of Arizona and State of New Mexico. In 2006, MariSol merged in Arizona Odd Fellows and Rebekah Credit Union.
Maricopa County Residents
If you live, work, or worship in the areas in yellow on the map below, you are eligible. You can also check our zip code list.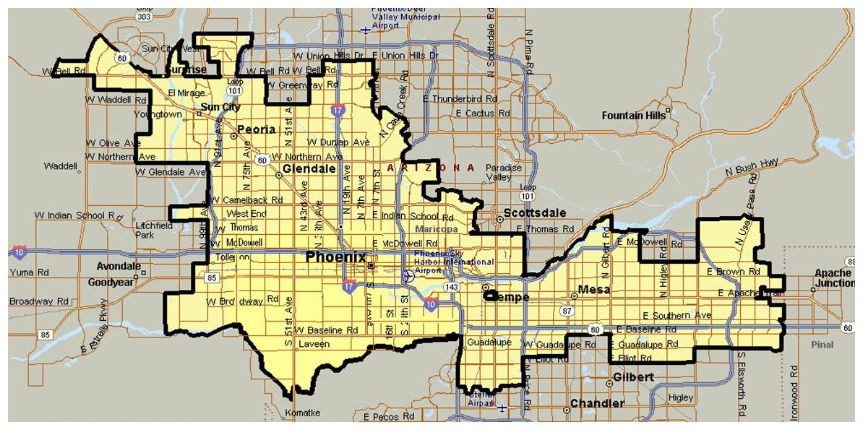 If you would like more information about MariSol eligibility, call the Member Service Department at 602-252-6831. Once you are a member, you are always a member.
How do I join?
A membership application must be completed. You can start your application online using the button above or below. We can also fax or mail an application to you or you can stop by one of our branches. A $25 minimum deposit is required in your savings account and must be maintained at all times. This deposit is called a Par Share and entitles each member to vote at the Annual Board of Directors elections. It is your ownership share. Total amount due at time of application is $25. Ask a Member Service Representative for more information at 602-252-6831.
Who in my family can join? Do I have to join first?
If you have a family member that is eligible to join, then you are eligible to join. No, you do not have to wait for them to join first. Family members include: mother, father, sisters, brothers, mother-in-law, father-in-law, brother-in-law, sister-in-law, children, grandparents, aunts, uncles, cousins or legal dependents. Household member is defined as a person living in the same residence maintaining a single unit. This would include, for example, roommates sharing a house or single apartment unit.
What benefits do you offer?
Being a member of MariSol FCU gives you access to great benefits. In addition to affordable financial solutions,you'll also enjoy special vacation offers through Get Away Today.
MariSol is also a proud member of Local First Arizona, so banking here means you're giving back to your community in a big way.
Go to main navigation